What to Pack for Your UK Summer Holiday
Posted on 05 Jun 2017 by Anna Scott
With a fall in the value of the pound, there's a good chance that many of you will have booked a holiday at home this year, and there's nothing wrong with that whatsoever because the UK has many delights to discover. But one of the problems with holidaying at home is that the weather can be slightly unpredictable, leaving you with something of a packing dilemma – making sure you take everything you need for all eventualities without filling your car with not only your entire wardrobe, but your entire household too. So we've taken a look at not only those items of clothing you might need, but also the extras you might not think about taking, but will definitely come in handy whatever happens weather-wise…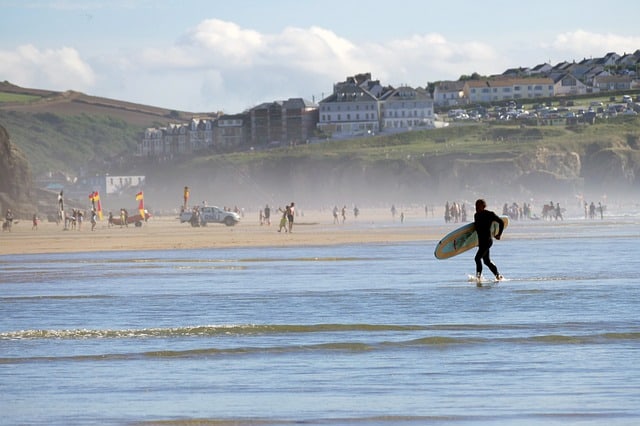 Packing for a Rainy Day
Its' the main concern for UK summer holidays and quite rightly – how many of us have watched the Glastonbury footage at the end of June and thought 'well, at least I'm not there swimming about in all that mud' and then spent two weeks in August stuck in your rental caravan or cottage, looking out onto a rain-soaked landscape? No matter how optimistic we are about the summer sunshine making an appearance, there is always a chance of rain and you should pack accordingly. But on the other hand, you don't want these items that you might not actually wear to take up too much room in your suitcase. According to packing professionals at
Fantastic Removals
, most people pack one too many items. However, the triple check rule is a great way to tackle this. It's a simple process - put together a list of what you think you need and get three friends/family members to evaluate it. The idea behind it is you'll have plenty of fresh input on what you really need and what you don't.
So, we recommend a light, stylish rain mac that you can easily fold and tuck away in a small bag for days out – you really don't need anything heavier because it just needs to keep you dry rather than warm (just make sure you pack a jumper and/or cardigan in case it does get a bit chilly). And just because you're wearing something that could technically be described as a cagoule, this doesn't mean it has to be the antithesis of fashionable – our promo codes for
Joules
could save you money on a nice selection of pack away jackets that tick the style as well as waterproof boxes. When it comes to footwear, many advice posts on this subject tell you to pack your wellies – well, we're not entirely sure this is the best idea. Wellies are rather heavy, and if travelling as a family that's at least 3 or 4 pairs you'll need to take. And be realistic – if it's pouring down with rain, are you really going to want to traipse across the countryside? A sturdy pair of shoes that will keep you reasonably dry should be more than enough in this instance. Trousers-wise, you're also going to need something a bit lighter than jeans for those wet but still slightly warm days, a happy medium between heavier denim and summer shorts.
A British Summer Skincare Routine
As much as you would like, you can't take every beauty item in your bathroom on holiday with you, so pick your summer essentials carefully. A couple of weeks ago we put together a blog post on
spring make up tips
and there are a couple of these you can take on board for your British summer holiday packing – for example, swapping your foundation for a CC cream with a high SPF gives you a light coverage for warmer days and means you don't have to pack a separate sunscreen for your face. Other make up tips basically boil down to picking out your favourite and most versatile shades and making sure you have a waterproof mascara. Sunscreen is always a must, even in the UK because we tend to underestimate how much we're going to need it, and if you're travelling as a family or in a group, see if you can save money and space by picking out a brand and SPF that will cover all your needs. Another thing to consider in the context of holidaying near the British seaside are good moisturisers, conditioners and lip balms that will cope with the potential high winds and salty sea air, all of which can play havoc with our skin and hair.
Indoor Entertainment
It's not just about what you will wear – the chance of rainy days also means planning for spending time indoors. Many holiday accommodation options now come with WiFi, so many sure you pack enough devices for all as well as chargers. However, if the rain persists then you need to have some back-up indoor entertainment, so think along the lines of a board game or two (ones that won't cause too many arguments, so perhaps avoid Monopoly), enough reading material (an e-reader is the most convenient and packing friendly option in this instance) and a few DVDs if there is no WiFi, or if it's a bit slow and unreliable (always a possibility in more remote locations).
Sunny Days
Just because you pack for the sunshine, this does not mean you'll be tempting fate – it just means you're being very sensible. Most summer attire isn't going to take up too much room anyway, so by all means take a few pairs of shorts, some flip-flops and a bikini because you never know. After all, when the sun does come out in the UK, there is no finer place to catch a few rays.
And let's not forget, if you
do
ending up omitting something you might need from your holiday packing, there are shops elsewhere in the UK, you know – you can always buy those extras while you're on the road and if needs be, we're sure there's a savvy village shop owner somewhere in the west country with a decent supply of raincoats available.