5 Easy Recipes for an Impromptu Barbeque
Posted on 26 May 2017 by Anna Scott
The heavens have well and truly aligned because as well as some glorious weather, next Monday sees the start of National BBQ Week. This means we all want some easy recipes to enjoy our outdoor cooking without going to a ridiculous amount of effort, so here are some simple ideas for grilled meat and sides that will more than satisfy your need for that special combination of food and sunshine…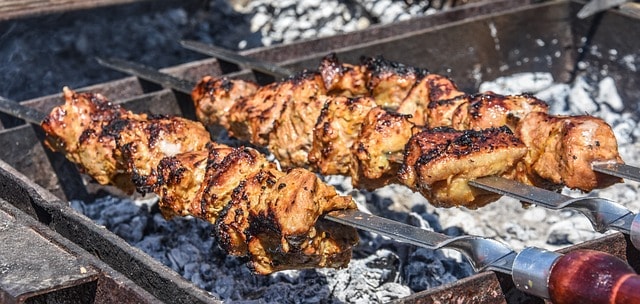 Mediterranean Lamb Kebabs
The thing about barbequed meat is that it tastes so much better after it's been sitting in some marinade, but the problem with marinades is that they often require a crazy amount of ingredients that you often don't have to hand and which can't pick up from your small local supermarket branch. However, by marinating your diced lamb in plain yoghurt and a spoonful of mint sauce, you can fashion a tasty kebab dish. Just put some red pepper and red onion on the skewer with it and you're sorted.
Spicy Chicken Drumsticks
Talking of easy-peasy marinades, this one is even more straightforward. When we cook chicken legs on the barbeque, we often want to them to have a sticky coating and for that you require sweetness of some description. This marinade is simply sweet chilli sauce and soy sauce in equal parts, both elements giving you all the sweetness and seasoning you need.
Sweet Chilli Dip
Got some of that sweet chilli sauce left over? The add a couple of spoonfuls to a tub of cream cheese and mix together. This will give you a far superior dip that anything you will find in the supermarket and takes considerably less time to prepare than homemade hummus.
Garlic, Lemon and Thyme Chops
Now this doesn't even require leaving the meat to marinade for any length of time (although if you get the chance, try for at least 15 minutes). Fresh garlic is such a powerful flavour that this still has an impact even if you just baste onto your pork shops before chucking them on the grill – just crush two cloves and mix with the zest of one lemon, a couple of tablespoons of olive oil, the leaves from a few sprigs of thyme (a teaspoon of dried if you don't have fresh) and some salt and pepper.
Homemade Potato Salad
Why would anyone get the not-very-nice shop bought stuff when it's so easy to make your own? Invest in some decent quality new potatoes, half them and boil in slightly salted water for 10-12 minutes or until you can easily put a knife through them (though not so much that they completely crumble). Drain then cool until room temperature and stir through a couple of spoons each of mayonnaise and salad cream, 2-4 finely chopped spring onions and some freshly ground black pepper.
Throw in some tortilla chips on the side and some liquid refreshment and you've got everything you need for a delicious, impromptu barbeque. Let's just hope that the weather holds out. But even if it doesn't, you can still enjoy all of this in front of the TV, watching your favourite summer movie.