How to Achieve That Bedroom Makeover on the Cheap
Posted on 16 Sep 2019 by Anna Scott
We are now approaching the season when we might prefer to spend a bit more time in our bedrooms, but what if it's not exactly the most relaxing space in your home? One of the key pieces of advice when it comes to getting enough rest and sleep is that your bedroom needs to be a place where you actively want to spend some time. Where you can escape from the stresses of work and life in general. But if the thought of relaxing in your personal space isn't exactly a tempting one, what can you do?
Maybe it's a case of hideous wall colours, uncomfortable lighting, or just being overwhelmed by piles of washing. And if you're on a very small budget, you might think it's just something you have to put up with. But there are a few small changes you can make that won't break the bank…
Tidy Room, Tidy Mind
First things first – a good tidy up can make a world of difference. But this is easier said than done for many. Often our bedrooms become the place we put everything because there's no space in the living room, or you just don't have enough storage in general. But a few small tasks can give you the impetus to face the larger challenge. Concentrate on one area at a time and see how you go. For example, focus on clearing out your old clothes to make some room. Put aside a few hours to fill some bags for your local charity shop and take them there straight away – because having back bin bags sitting in your bedroom floor might mean it's slightly tidier than before, but that's still not the ideal aesthetic.
Bedroom Makeover Inspiration
And now to decide the sort of look you want to achieve – romantic, vintage, minimalist? Or just something that reflects your personality. Of course, there's lots of inspiration to be found when looking at the products on some of the recommended retail sites we mention here, but there's loads more available on the internet at large. If you're familiar with Pinterest already, then you'll know it's a great resource. Just search terms like 'bedroom ideas' or 'bedroom makeover' and thousands of images are available. Before and after pics are also a great bit of bedroom inspiration, such as the ones found in this article from
The Spruce
. Just be careful, commented decorating professionals at
Fantastic Handyman
, for DIY could lead to damage and severe costs on repairs.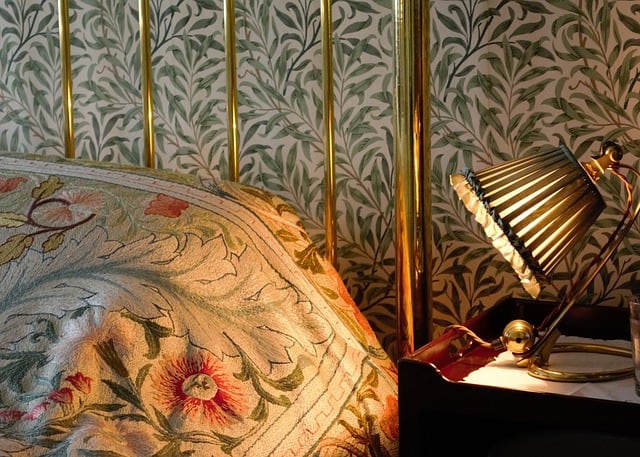 Just a quick pointer when looking for inspiration in general – don't get disillusioned because you think a lot of these images and makeovers will be out of your budget. The idea is to take inspiration rather than replicate entirely. For example, if you love the fantastic lighting in one picture, think how you can find a cheaper option in the same vein. Or maybe just take it as a cue to make a small change to your lighting as this can make a big difference to the room as a whole.
Bedding Ideas
This is probably the easiest change you can make, and it will even provide its own inspiration. These days, there is no need to spend designer money if you want designer look bedding. Loads of great value retailers offer gorgeous options for those on a small budget including George at Asda, Matalan and even high street favourite Primark. We particularly like the duvet sets available with our
promo codes for Dunelm
, and you can get up to 30% off selected designs including the impactful Dorma Cordelia Set. This could be the ideal base if you want to create a romantic bedroom space complete with colourful floral touches.
Cheap Decorating Ideas for Bedroom Walls
Just like changing your duvet covers can make a big difference, just adding a couple of framed prints to your bare walls can immediately transform your room. This is the sort of thing that can make your bedroom really feel like home rather than just somewhere you rest your head, but finding the right piece of artwork doesn't have to be difficult or expensive.
You first stop should be local charity shops. There's a very good chance you're not going to find exactly the sort of thing you want, but even if you don't, it might be wise to pick up a few pictures anyway. Bit confused about this tip? Well, it's because you're only buying them for the frames! Getting prints framed can often be the most expensive part of the process, but doing it this way around means you've already got a frame you like (bought at a very low price), and then you just need to find a print to go in it.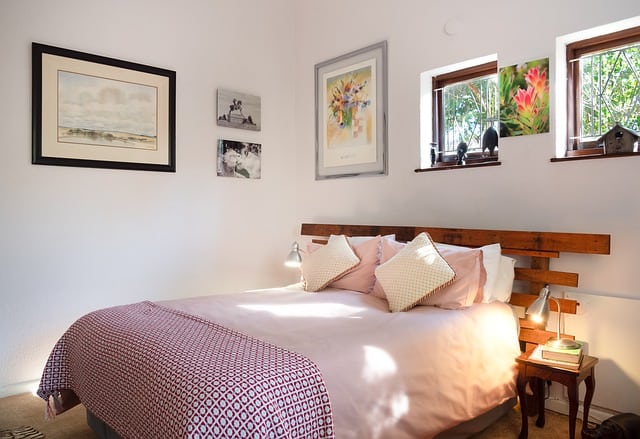 So what about that artwork, then? We're not talking original pieces here, just some reasonably priced prints that suit your tastes. Our
promo codes for Redbubble
are an excellent source of discounted art prints (as well as lots of other home accessories), and it's easy to filter their selection by theme, colour, size, price, or whether you're after a print on board or canvas.
Once you've picked out your wall art and put it up, what other simple things can you decorate your room with? We all love browsing their homeware department if we have a spare half hour, but have you ever considered ordering online using
promo codes for TK Maxx
? They have a huge choice of home accessories on clearance including lampshades, small side tables, lovely little vases and pots, and even sets of draw handles and knobs if you want to upcycle an old chest of drawers. All excellent things to add to your bedroom if you want to put more of a personal stamp on it.
Bedroom Lighting Tips
And now time for a bit of mood lighting. If all you're relying on so far is one light bulb and perhaps a small bedside table lamp, there are lots of ways you can mix it up a bit without calling out an electrician. First up, are you happy with your current lampshade? Does it fit in with your bedroom theme? If the answer to both these questions is no, then it's easy to find lots of cheap options using the retailers we've recommended, or by searching the home section here on
Promo Codes For
. And the same questions can of course be applied to your bedside lighting too.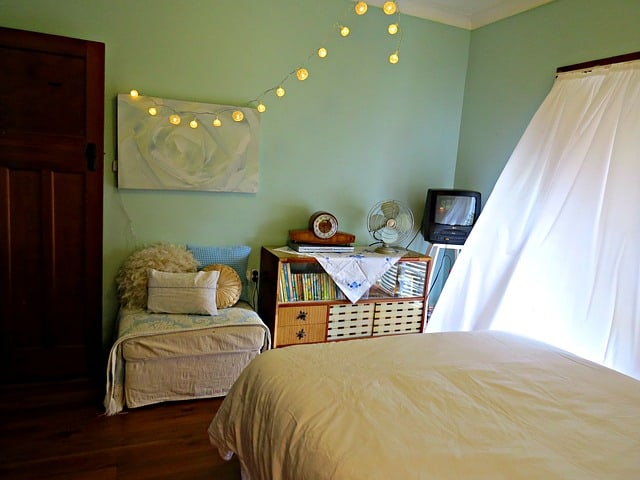 Another thing you might want to consider is the use of fairy lights in your room. An artfully placed string of lights across a bedhead, over a desk or around a window frame, can add a comforting feel to your bedroom, and they don't have to look remotely Christmassy. Unless you want it to feel like Christmas all year-round, of course.
If you're smart about where and how you shop, it might even be possible to transform your bedroom from as little as £50. And once you've arranged your chosen pieces and products, just see how much more time you'll want to spend in your new-improved beautiful and relaxing space.