Best Dairy Free Easter Eggs for Chocoholics
Posted on 28 Mar 2018 by Emily Atkinson-Dalton
Enjoy a Free From Easter Full of Indulgence 
It's that time of year again when our taste buds start watering, the sun is emerging from behind the winter clouds and the Easter bunny bounds ever closer. One of the more overlooked holidays is approaching, and it's the time when every chocolate lover can indulge in their greatest pleasure. But what about those of us who can't enjoy the sweet treats quite like everyone else? Well whether you are vegan or lactose free, there is no reason why those who avoid dairy can't enjoy the succulent sweetness of this holiday. Whether you love the rich taste of dark Belgian chocolate or the smooth, sweet milk chocolate flavours, there is something for everyone; even in the dairy free collection.
Melt in the Mouth Milk Chocolate
The most popular flavour of chocolate yet also the trickiest to find a great alternative for; milk chocolate. However, there are now a vast range of milk chocolate alternatives to choose from when shopping for the dairy free chocoholic.
Indulgent Milk Alternatives
Mouth-watering dairy free milk chocolate eggs are a tasty treat for children and adults alike, and have soared in popularity in recent years. There are now a variety of tasty milk free milk chocolate eggs such as the Moo Free Milk Chocolate Egg from Waitrose for just £4, and the
Tesco Milk Free Easter Egg for £3
. Both have a smooth, sweet flavour very similar to milk chocolate, and come with an extra chocolate treat in the form of coins and buttons.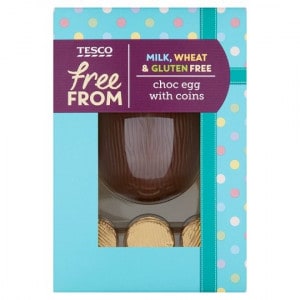 Sugar Free Treats
A lot of people avoid dairy to be healthier and feel fantastic. This also means they could be looking to avoid other ingredients such as sugar, but luckily that's now also easy to cater for. The Good Egg from Holland and Barrett is just £3.99 and is great for those looking to indulge in a sugar free treat. Although less sweet than the other alternative milk chocolate eggs, it offers a smooth, soft texture and flavourful taste.
Delectable Dark Chocolate 
One of the great things about dark chocolate is that most of it is already dairy free. There are therefore a variety of dark chocolate options especially when Easter comes around, from the simple dark chocolate eggs to the more luxury brands. Thorntons and Hotel Chocolat offer delicious dark chocolate Easter eggs such as the Hard Boiled Dark Chocolate Egg from Hotel Chocolat, which is made with 100% dark chocolate and accompanied by delicious truffles. This premium egg comes in at £16; a pricey addition, but perfect for those looking for a premium pressie.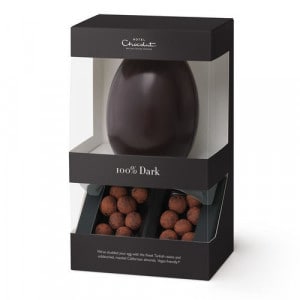 For those looking for a cheaper option, ASDA have their own free from Easter Egg range complete with delicious dark chocolate options. The ASDA Extra Special Dairy Free Belgian Dark Chocolate Egg comes in at just £5 and is made with luxury Belgian dark chocolate accompanied by vanilla flavoured truffles. Looking for something even cheaper still? Sainsbury's offer an Organic Green & Blacks Dark Chocolate Easter Egg for just £4.
Smooth Caramel for the Sweet Tooth
As more dairy free treats enter the food markets daily, there is now more diversity in flavours than ever before. This year see's the introduction of the Tesco Salted Caramel Flavoured Egg, and it is sure to satisfy any sweet tooth. Complete with sweet truffles and filled with crunchy caramel rice interior, this egg oozes luxury but is a steal at just £3! If you are looking for a slightly more costly Easter Egg, the Choice Caramel Easter Egg from
Sainsbury's
is a winner; literally! Having won both free from awards and food awards, it is a favourite for many. This caramel flavoured egg comes with caramel filled chocolates and comes in at only £3.50.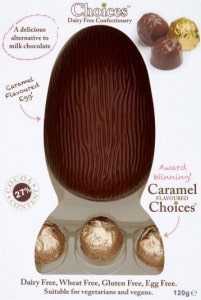 White Chocolate, Mint Madness & Mini Treats
Flavour Infusions
For those who love orange chocolate infusions, honeycomb crackle and mint fondant centres, the dairy free market hasn't forgotten you. There are a number of quirky chocolate flavours this Easter season with Moo Free offering orange and honeycomb flavours, Thorntons offering dark chocolate and ginger eggs and Divine offering a Dark Chocolate and Mint Crisp egg for £5.95 from Real Foods online. Last year even saw the introduction of the Choices Dairy Free White Chocolate Egg from
Holland and Barrett for only 74p!
Mini Easter Treats
If you are looking for a small something to satisfy a sweet tooth, there are many mini alternatives to a full Easter egg. Choices offer a Dairy Free Easter Bunny Bar for just 32p in Sainsburys and Holland and Barrett, which are available in both milk and white chocolate. For a slightly more pricey little treat, Montezuma's offer a range of
Vegan Dark Chocolate Mini Eggs
starting at just £3.99, including a little gift bag of mini milk free choccies. Looking for a premium Easter gift which comes with a lasting souvenir? Booja Booja do a collection of truffles presented in a large, decorative egg tin. Although this comes in at £10, it's perfect for the truffle lover who likes a keepsake.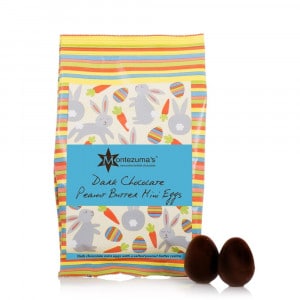 Shopping for a dairy free Easter can be a challenge, especially if you aren't dairy free yourself. However, with dairy free being more mainstream than ever, and
vegan Easter eggs winning blind taste test awards
, there are more dairy free chocolate options than ever before. Wheereas previously it may have been hard finding any sweet dairy free treats at all, we now have an abundance of choice with a variety of flavours and textures to choose from. Many of the brands mentioned above such as Moo Free and Hotel Chocolat offer vegan and dairy free chocolate treats all year round, so when it comes to Easter they often have new treats coming out every year.