Promo Codes for Viking Direct - July 2019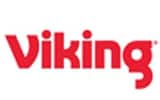 How to Save on Office Supplies with Promo Codes For Viking Direct
Whether you work from home or run a small business, our promo codes for Viking Direct could come in very handy indeed. The cost of those ongoing office supplies can soon add up, so it makes sense to find a source that is well priced. But with our codes, you get access to regular discounts and vouchers that can get you even more money off. Ideal for everything from paper to office furniture.
What Can Customers Find Discounts on with Promotional Codes For Viking Direct?
Firstly, this company caters to both individuals and business customers, so you can make savings on lots of things, from school supplies to ink and toner. Basically, this is the site to go for all the must-have office essentials. If you're starting out, you can find excellent prices on office chairs, filing cabinets and desks. They also have a great selection of office tech to get you going including laptops, printers, shredders and laminators. And then we have those essentials that you're going to need a regular supply off – paper, stationary, ink and even cleaning materials. Our discount vouchers for Viking Direct can save you money on all these things, whether it's via one of their promotions or a special money off code that we've sourced. And business customers who are eligible for credit accounts should not that they can access even more customer benefits (see below).
What Special Offers Do They Provide?
– You might be a bit overwhelmed when you see all the reductions available on their homepage, so we're summing them up for you. Firstly, you have their sale page where they highlight seasonal promotions and deals. These include straight price cuts of up to 50% off as well as multibuy deals. They also have a clearance page and a 99p store. In the latter, you can pick up items like air fresheners, bin bags and rulers – not things you automatically think of when it comes to office supplies, but essentials, nevertheless. It's also worth keeping an eye on their early bird offers for seasonal specials – think special prices on bottled water and desk fans before the heatwave hits.
It's also worth mentioning their Price King page. These aren't special offers as such, but permanently low prices on lots of office essentials. And don't forget, some of our promotional codes for Viking Direct could find you savings on these items too.
Do They Have a Loyalty Scheme for Business Customers?
– They do and it's one that might be very familiar to you already. Viking Direct have joined forces with Nectar Business so small business owners can collect 2 points per £1 spent. They also run special offers when you can claim bonus points and extra rewards. If you're not already a member, then sign up to start collecting points and then you can redeem them on future orders (as well as lots of other items available with their programme).
Another business benefit is their Protection PLUS scheme available to credit account holders. Instead of the usual 30 day no quibble returns window, signing up for this means you can extend it to 1 year. This is a great service for new businesses who might not be sure how many supplies they will need on an ongoing basis.
Is Free Delivery Available?
- Yes, it is. If you're spending £30 or more (excluding VAT - £36 when including VAT) then you can enjoy Free Delivery on your order.
How Can I Access More Deals? – Simple, just sign up to receive their email newsletter. This means you'll hear about any extra offers that are running as well as new products that drop.
Extra Delivery and Returns Details
If your minimum spend doesn't qualify for the Free Delivery threshold, then the charges for UK mainland delivery are £2.90 (excluding VAT), or you can always search for any current free delivery codes for Viking Direct on our page. Most orders are delivered within 2 working days, although if you order before 6pm, Monday to Thursday, then it should arrive the next working day. For in stock items, it's possible to select your preferred delivery day within the next 5 working days. As mentioned above, they have a standard 30 day returns policy, but this can be extended with their Protection PLUS scheme.
What is the Viking Direct Customer Service Phone Number?
You can call their customer service team on 0844 412 1111. If you're already on their site, you might find it easier to use the live chat function or fill out the
online form provided
. You can then come back here to access one of our discount codes for Viking Direct to claim your saving before you go ahead and order.
You can read lots of positive customer reviews on their Trustpilot page, or use one of the social media links below to see more news as well as contact them via these messaging services:
Trustpilot
Facebook
Twitter
Rate us:
Rated 3.60/5 from 5 users.