Promo Codes for Stansted Airport Parking - July 2019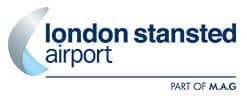 Get Cheap Parking with the Latest Promo Codes For Stansted Airport Parking
It is fast becoming a very important departure point for many Londoners, with a direct rail service from Liverpool Street in central London providing an excellent transport link to those living in the capital. But situated as it is on the outskirts of the city, driving to the airport could also be a sensible option, made even more attractive by our promo codes for Stansted Airport Parking. Train tickets aren't exactly famous for being good value, and the cost of a taxi to the terminal could end up costing more that the flights, but when booking airport parking in advance (as opposed to buying a pass on the day), you can cut down the costs considerably, and that's not to mention the convenience of knowing your car will be ready and waiting for your when you jump back off the plane after your holiday.
Being a busy and popular airport, Stansted offers a number of different parking options, plus there are plenty of off-site parking providers with competitive pricing for long stay passengers. One of the most tempting on-site options has to be the Meet and Greet service available at their departure terminal. As well as standard Meet and Greet extras which include being met at a convenient spot close to the terminal, having your car parked in a secure long stay location by a representative and automatically scanning your vehicle to assess its condition quickly and easily, you can also use discount codes for Stansted Airport Parking to book their Meet and Greet Plus service. This offers all the benefits of standard Meet and Greet, but also fast track security passes, an exclusive dedicated entrance to the car park, cancellation protection on your booking and the option to collect your key quickly from one of their secure lockers on arrival. Other extras available to book online in advance include passes to the Escape Airport Lounge. Fancy getting away from the hustle and bustle of the main departure area? More relaxing surroundings and complimentary food and drink can be found here, and buying your pass before you even get to the airport means you save even more money.
The Best in Budget Airport Parking
But many people looking to book a parking space want the lowest possible price on a long stay service. As well as standard long stay car parks that include a 15-minute bus transfer to the terminal, promotional codes for Stansted Airport Parking also allow you to choose the online-only parking facilities with even lower prices, with the option to upgrade to Meet and Greet if you think you might need extra assistance once you get to the airport. A happy medium can be found with their mid-stay option too – this also comes with a bus transfer, but is situated closer to the airport, so might be more suitable for those looking to cut costs, but also get to the terminal in the fastest time possible.
Contact Details for More Information
On-site parking and general airport queries can be dealt with by calling their main switchboard on 0800 093 7851, or contact your independent parking provider if you have used our promotional codes for Stansted Airport Parking to arrange your parking space off-site. If you're on Twitter, we recommend following
the airport page
before you set off for the terminal because if you have any questions or problems whilst you're on the road, or regarding your discount vouchers for Stansted Airport Parking, as they can answer them here during normal working hours. The main address for the airport is Bassingbourn Road, Stansted, CM24 1QW and you can find directions on the map reference right here:
Rate us:
Rated 3.60/5 from 5 users.