Promo Codes for Specky Four Eyes - July 2019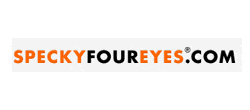 A Stress Free Way of Buying Prescription Glasses Online with Promo Codes for Specky Four Eyes
We all dread that time of year when we have to fork out for some new glasses, but thankfully, promo codes for Specky Four Eyes will help you to save on a new pair of stylish specs. Since opening in 2005, this award winning company are committed to providing excellent customer service along with top notch aftercare. Whether you're after cheap varifocal glasses, reading glasses or sunglasses, choose from their huge range of quality frames and get your perfect pair for less.
How Can I Save Money Buying Glasses Online with Promotional Codes for Specky Four Eyes?
There's plenty of ways that these folk can help you get cheap spectacles without scrimping on the quality. Their prices are up to 80% cheaper than what you'll find on the high street, but you'll still come across a huge range of stylish designer frames from your favourite brands. Choose from the likes of Superdry, Ted Baker, Tom Ford and Timberland, to name a few! With thousands of frames to choose from, you can kick back with a brew and shop for your new specs in the comfort of your own home, all the while knowing you're getting them at the best price with our discount codes for Specky Four Eyes.
Buy Glasses From Just £10:

Yes, really! If you're on a tight budget make sure to regularly browse through their range of clearance lines, where you'll save up to 65% off. Not only that, but those £10 frames? They even include standard lenses at no extra cost!
Try at Home:

Of course the main difference between buying online and buying on the high street is the fact you can try on frames when shopping in your local opticians. However, with
Specky Four Eyes
offering a Try at Home service, you can be 100% sure of your choice before you go ahead with your order. Simply select the frames you'd like to try and they'll be delivered straight to your door for you to select. While the service costs £4.99, this will be refunded back to you from the cost of your order.
Buy Prescription Sunglasses Online:
If you're in the market for some new sunnies, you've come to the right place. Choose from best-selling designer brands including Ray-Bans, or you can shop from a wide range of classic styles under £50. It's not just prescription sunglasses you can buy either - they have a huge selection of non-prescription frames, all fully UV protected and ready to be shown off in the sunshine!
If you're still a bit dubious about buying online, fear not, as each pair you buy with discount vouchers for Specky Four Eyes is expertly made and finished in their UK labs. Not only that, when it comes to ordering, their team of qualified opticians will be hand to help you every step of the way. From guidance on understanding your prescription to taking those all important measurements, you can shop with confidence knowing that you're in safe hands.
How Much is Delivery at Specky Four Eyes?
Delivery is a fixed charge of £4.99 to anywhere in the UK via Royal Mail. You can also opt for Next Day Delivery which costs £9.99. Most orders are completed within 10 working days, however this may vary depending on your prescription and any additional coatings you may have ordered. If you're in a rush for your new specs, they also offer a FastTrack service, which can be arranged by calling their team on 03448 20 20 20.
Returns Policy:
In the event that your glasses arrive with a defect, they offer a free returns policy. Simply complete the form on
their website
and their customer service team will work to rectify the problem. There are certain exemptions to the returns policy - for example if the frames are ill fitting - which you can read the full terms on
here
.
How Can I Get in Touch?
There's a number of ways for you to get in touch with the Specky Four Eyes customer service team. You can request a callback from one of their opticians by completing
this form
, or you can call  03448 20 20 20. Alternatively, you can email
info@speckyfoureyes.com
or send a WhatsApp message to 07999 20 20 20. General enquiries can also be sent via the form on their
Contact Us
page. The postal address is: Crowgill Chambers, Crowgill Road, Shipley, West Yorkshire, BD18 3SN.
You can also keep up with the spectacular latest offers along with read a whole array of reviews from satisfied customers via their social media channels, which we've listed below. You can also check out
these customer reviews
and find out why they've earned a five star rating on TrustPilot!
Twitter
Facebook
Instagram
Rate us:
Rated 3.60/5 from 5 users.