Promo Codes for My Furniture - July 2020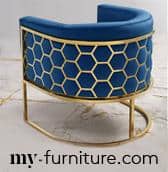 If you want to brighten up your home with furniture that doesn't follow the herd, these promo codes for My Furniture will be right up your alley. This is for those who love their mirrors and velvet sofas, but also like to break up the cream look with some lovely bright colours and signature pieces. This is designer furniture at a very reasonable price, but we can go one better by providing you with all the latest available discounts to use on their site too.
Revamp Your Interiors with Our Discount Vouchers For My Furniture
Whether you are starting from scratch with a brand new front room, or just want a sofa or armchair to liven up your indoor space, you'll certainly get a lot of inspiration with this company. Based in Nottingham, they design and manufacture unique items that cover both the modern look and popular retro stylings. But we're not going to pretend buying a new piece of quality furniture is cheap, and if you want the best, it definitely shouldn't be. But here on our page, we source the latest promotional codes for My Furniture that give you the best chance of getting the lowest price possible. This might take the form of pointing you in the direction of their latest special offers, or even a secret discount code to get you a bit of money off your total order. So if you've seen something you fancy on their site, but aren't sure whether you should spend the extra to treat yourself, there's a good chance you might not have to worry about it…
Explore Their Clearance Page
– Anyone looking for a furniture discount should first head to their clearance section. Here you could get more than £100 off selected armchairs and sofas and even £500 off one of their glass cabinets. But if you see something particularly tempting, move fast. Because of the very nature of a clearance sale, any particularly good deals aren't going to hang around for long.
Spread Your Payments with 0% Interest
– It's not uncommon to pay for big furniture purchases on a credit card, but why pay those extra charges if you don't have to? It's easy to apply for interest free credit when shopping with voucher codes for My Furniture. Just contact them in the first instance using the contact details below and they'll discuss it with you.
Trade Account Benefits
– Opening up a trade account with this company can bring you all sorts of extras that aren't available to anyone else. So if you are a restaurant or other business that requires stylish furniture for your premises, please complete an application on their site for more information.
How to Use Discount Codes For My Furniture
To access any of the savings available on our page is very easy indeed. We usually feature two types of discounts and here's how to claim both:
- Some of our links are labelled 'Get Code'. These are for the savings that require you to input a code on their site. To get said code, click on our link and it will take you to a smaller window. Follow the instructions to view the code and copy it to your device. We'll then re-direct you to their site. Once you selected your items, paste the code in the box provided before you reach the payment stage. Once it is applied, the saving will be deducted from your total spend
- For the links marked 'Get Offer', no code is required. You just click on them to visit the page on the My Furniture site that has that particular discount or promotion
What Are the My Furniture Delivery Times?
The arrival time of your delivery will depend on what you are ordering and your location. You will be advised of the options available to you once you reach the checkout stage of your order. These might include Next Working Day Delivery, 48 Hour Delivery and 1-4 Week Delivery. If you have items on order that are eligible for different delivery slots, then they will usually opt for the longer delivery time so everything will arrive together. However, if you would like something sooner (if it comes under the Next Working Day Delivery service, for example), you can contact them directly to arrange this.
Their returns policy gives you 14 days to send back unwanted items as long as they are unused and in their original packaging. If your item arrives faulty, please contact them within 24 hours of the delivery time to let them know.
Head Office Contact Number and Other Info
You can call their team on 0800 092 1636, email customerservice@my-furniture.co.uk or fill out the
form on their site
. Their showroom address is:
1 Mark Street
Sandiacre
Nottingham
NG10 5AD
Anyone who values top notch customer service will be please to hear that they have an Excellent rating over on
Trustpilot
. And if you need any more info, please check out their fantastic social media pages:
Facebook
Twitter
Instagram
Pinterest
Need to Know Guide to Ordering with My Furniture
A Dining Room with a Difference
– We know it's tempting to eat your dinner in front of the TV, but perhaps if your dining area had a bit of a makeover, you might be more inclined to use it? If it's looking a bit neglected, a new dining set could make the world of difference. And there's no better place to get inspiration than the My Furniture site. Dining furniture is one of their specialist areas and their range is a combination of stylish yet comfortable. Their sought-after Alveare dining chairs will certainly add a touch of opulence to your home, and they have dining tables available in all shapes and sizes to suit many different spaces.
Make a Feature of Your Armchair
– For those who just want to invest in a single item to liven up their living space, we'd recommend taking a look at their
armchairs
. They follow the site theme of being available in many different colours, and we particularly like the retro-look Eva armchair that comes in shades of peacock, mustard and pumpkin. Their top quality velvet upholstery will last for many years to come, and they don't half look comfy too!