Promo Codes for Mister Maker - June 2022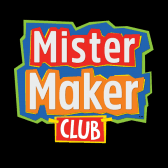 How Our Promo Codes For Mister Maker Can Save You Money on a Craft Kit Subscription
If you've got young kids, you may well have heard of the programme behind our promo codes for Mister Maker. In fact, we'd put money on it! Any regular viewer of the Cbeebies channel knows who he is thanks to his excellent arts and crafts show for younger children, and now you can bring those arts and crafts into your home thanks to their subscription boxes. Use one of our codes to get started and see if your little one wants to get stuck into an arty party activity!
Learning Arts and Crafts Step by Step with Discount Vouchers For Mister Maker Kits
If you've never taken out a subscription for a craft box before (or any sort of subscription box), then it's a very simple process. You can arrange a fortnightly subscription using one of our promotional codes for Mister Maker, and their team will then send you a regular delivery of one of their craft boxes. These can be personalised to suit you child's arty interests and they have 12 different themes including Circus, Mini Beasts and Night Sky. If you've already heard of Toucanbox craft kit subscriptions, these are made by the same team. They put more of a focus on the arts and crafts side of things (taking inspiration from Mister Maker himself, of course), so if you have a creative child between the ages of 3 and 8, these will make an ideal regular activity to keep them amused and entertained.
How Can I Save on a Trial Box?
– Using one of our discount codes for Mister Maker, it's easy to claim a saving on your first trial box. In fact, when you use the link we provide, you can get it absolutely free! This is a chance to see whether their craft activities are something your child will be interested in, and if not, there's no commitment to continue.
Is the Subscription Flexible?
– It is. Once you sign up, there's no minimum commitment and you can cancel your subscription at any time.
Are Any Free Gifts Available?
– They most certainly are. As your child continues to collect their craft boxes, they'll be rewarded with free exclusive collectors' badges and certificates for completing each activity. There's also a free collectable sticker in each kit.
More Delivery and Subscription Details
Postage and packaging costs are included in the subscription fees, so you won't pay anything extra for delivery. Once you sign up, you will receive a craft box every 2 weeks. Delivery usually takes 3-5 working days from the day of shipment.
How Can I Contact the Mister Maker Team?
There are a couple of ways you can get in touch with them before or after using one of our promotional codes for Mister Maker. Either complete the
online contact form
on their site and they will get back to you ASAP. Or you can reach out via one of their social media platforms (we've put the links at the bottom of our page). Facebook is probably the most convenient way to message them online in this instance:
Facebook
Twitter
Instagram
Pinterest