Promo Codes for M and M Direct - July 2019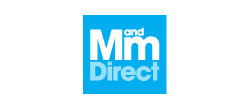 Shop for Big Brands and Even Bigger Savings with Promo Codes For M and M Direct
Nothing whatsoever to do with confectionery, our promo codes for M and M Direct instead refer to the names of the two founders, Mark and Martin, who's initial aim was to source clearance stock of branded clothing and sell it all in one place, way back in 1987. It's fair to say they've been rather successful in this quest, because they now have over 57 million site visits per year, delivers to more than 20 countries across the globe and in 2015, was voted one of Which? Magazine's best clothing, shoes and accessories websites. Our promotional codes for M and M Direct can now show you an even easier way to save on this already discounted stock, whether it's additional price cuts you're after, or a helpful signpost as to where the best deals are on their site.
Their business is built on selling brands at better prices, so your first question is probably something along the lines of 'do they stock my favourite label?' We're guessing the answer is probably a resounding 'yes' considering you can use discount codes for M and M Direct to save money on names like Adidas, Superdry, Ralph Lauren, UGG and Timberland. But by its very nature, the stock available with promotional codes for M and M Direct varies all the time – the buyers are always seeking at new clearance bargains for the lowest possible price and this means not only a regular supply of new lines, but on the flip side, lots of limited time only stock. So if you see a particular designer item you like, snap it up while you can!
Delivery Information
Standard UK Delivery (3-5 working days) is free if spending £75 or more, or if spending less, £4.49. Order before 7pm and you are eligible for their Express Delivery service for the following day (£5.99), or if you envisage using our voucher codes for M and M Direct to place orders on a regular basis, another delivery option to consider is their Premier Service: for £19.99 a year you can enjoy unlimited Express Delivery – all you have to do is place four orders to get your money back!
International delivery is very reasonably priced with most countries they deliver to entitled to free delivery when spending £75 or more (other prices depend on location). If you want to return any unwanted items then you can print off a pre-paid Hermes returns label and take to your closet drop-off point, or send to M and M Direct, PO Box 319, Hereford, Herefordshire, HR1 9JW via the Post Office using standard postage.
Contact Details
To chat to someone in their customer services department during office hours, please call 0371 200 5000 or alternatively write them using
customerservices@mandmdirect.com
or M and M Direct Ltd, Customer Care Centre, Clinton Road, Leominster, Herefordshire, HR6 0SP. Or, if you use Twitter, the most convenient way to get in touch before using discount vouchers for M and M Direct is to tweet them using
@MandMDirectHelp
.
For this type of retailer, social media really comes into its own. Because of the ever-changing nature of their stock, you want to know when certain items drop as soon as they're available, and following them on all platforms is the easiest way to stay informed. In addition to updates on new lines, items and competitions on
Facebook
,
Twitter
, and
Instagram
, the
YouTube page
takes a closer look a some of their items such as the Adidas Pure Boost Chill trainers…
Rate us:
Rated 3.60/5 from 5 users.