Promotional Codes for Gillette - November 2020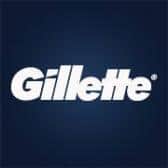 Looking for that perfectly clean shave or to perfect different beard styles? Shop at Gillette for the best razors and blades on the market. You can use our promo codes for Gillette to purchase all of their advanced razor blades for less. Founded by King. C Gillette, this brand has been pioneering technologically advanced shaving products for 115 years. The brand also has strong ties to the sporting world making it one of the top male grooming performance brands. Gillette has partnered with world-class athletes and sports people, connecting the brand with ambition and determination to achieve. Gillette razors are constantly evolving, with new technologies constantly upgrading your shaving experience. Say goodbye to razor burn and bumps when you use one of Gillette smooth glide fusion razors for ultimate precision and soft finish. With their super simple razor delivery service, make Gillette your one stop shop for an advanced shaving experience that reciprocates that of a barber.
Save on cutting edge razors using our promotional codes for Gillette
If you want to want a smooth and streamlined shaving experience for less, be sure to use our discount codes for Gillette. Our expert bargain hunters are always finding the latest vouchers and codes on the internet to ensure you get the biggest savings possible. So, be sure to visit our site before making any new razor purchases. If you're eager for even more ways to save, check out the options below:
Shavers club:
Join Gillette's razor subscription and you can enjoy a whole host of benefits.When you subscribe you can get 15% off your blades. You can control the frequency of your deliveries and choose how you want your blades delivered. If you're new to Gillette, you can also receive their starter kit absolutely free.
Subscriber exclusives:
When you subscribe to the Gillette newsletter you can get exclusive discounts and deals. The brand is currently offering their Heated Razor for just £149 and 15% off ongoing blade refills.
Offers:
If you're always looking for a bargain, be sure to visit their offers tab and check out the latest Gillette offers. You can currently get great deals such as 33% off gift sets and 30% off shaving kits right now.
Refer a Friend:
Take advantage of Gillette's refer a friend offer and you can recieve £5 credit when that friend spends £15 or more on their site. Who wouldn't want to earn a free fiver?
Razors and Blades
With so many high tech shaving options available to purchase on the Gillette site, we thought it would be handy to provide you with a breakdown of all of their hottest blades, so you can choose the right razor for you.
Fusion5:
The Gillette
Fusion5
is one of the brands classic razors which features 5 anti-friction blades that work to provide a smooth and friction-free shave you're sure to love. The razor has a lubricated strip featured below the blade that ensures the blade comfortably glides across your skin. Even better, the razor also has a precision trimmer on the back of the blade head which allows you to reach difficult areas and style your facial hair.
Fusion5 ProGlide:
Developing upon the popular Fusion5, Gillette have introduced the
Fusion5 ProGlide
which is designed to give you an even smoother shave. This blade features FlexBall technology which allows you to shave with the contours of your face. To ensure the razer glides smoothly, the brand has added extra lubrication to the lubrastrip for a shave you can barely feel. 1 razor blade refill for this razor equals a months worth of amazing shaves.
Heated Razor:
The
Gillette Heated Razor
exemplifies the cutting edge engineering by the brand. One of the razors unique features is its stainless steel warming bar which provides instant warmth and a soothing sensation to the skin. The razor also has a temperature control system, so you can adjust your warming bar to the perfect temperature for your skin. The product has inbuilt flex technology that sculpts the contours of your face and stubble and delivers and even distribution of heat to the skin. If you're looking for the ultimate luxury shaving experience, no other razor will do. Moreover, when you purchase the heated razor you receive two free gifts worth £80 and when you use our discount vouchers for Gillette you can make big savings.
Mach3:
The Gillette
Mach3
are manual razors that stay sharper and stronger for longer. The blades have been engineered to last up to 12 shaves so you no longer need to worry about weekly blade orders. This blade also features a microfin skin guard which stretches the skin to give you a sharper and cleaner shave finish. The razors handle is also expertly weighted for ease of use.
Kits and Gift Sets
Want all the additional accessories to complete the ultimate shaving experience? Gillette has an entire section dedicated to shaving kits and gift sets. Here are some of the best sets for you to get your hands on:
Fusion5 ProGlide
: Do you swear by the ProGlide razors? Purchase the ultimate gift pack you're sure to love. This set includes the ProGlide razor, the limited edition shaving gel and a razor stand for easy storage. This is ideal as a gift or as a payday treat.
Mach3 Travel Bag:
Always on the go? Go for the
Mach3 Travel Bag
, perfect for those spontaneous weekends away or business trips. This set features the Mach3 razor, a blade refl, the extra comfort shaving cream and a chic wash bag to store all of your shaving accessories.
How to contact Gillette
For all enquiries, contact the brand on 02033 676033 or live chat with one of their customer service professionals. For all the tips and hacks for getting the best shave, visit the Gillette
blog
now. You can also keep up to date with the brands latest releases and deals on their
Twitter
,
Facebook
,
Instagram
and
YouTube
.