Promo Codes for Etihad Holidays - July 2019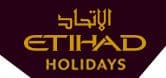 How Can I Book a Luxurious Package Break with Promo Codes For Etihad Holidays?
If you've booked a flight with them in the past, why not go one step further with our promo codes for Etihad Holidays? The clue is in the name, because instead of just saving you money on air travel, these codes can get you the whole package – flights, accommodation, car hire, transfers and perhaps even entrance to special events too. It's simple to book direct on their site, but when you click on one of our codes first, extra holiday savings could be available.
Where Can I Go with These Discount Codes For Etihad Holidays?
Abu Dhabi is fast becoming one of the UK's most popular luxury holiday destinations, so it makes sense that this company offer a large choice of packages to this location. In fact, they love it so much, they even offer extra booking incentives. If you use one of our promotional codes for Etihad Holidays to arrange your Abu Dhabi package holiday, then your boarding pass will double as an Abu Dhabi pass that gets you exclusive discounts with participating restaurants and attractions. Even more reason to visit! But did you know that this company can also fly you even further? They provide package holidays to Thailand, the Maldives, Muscat, Australia and the Seychelles too, giving you a huge amount of choice when it comes to basking in the sunshine.
What Special Package Trips Do They Offer?
– One of the unique promotions available with these discount vouchers for Etihad Holidays is their Abu Dhabi F1 package. As well as arranging all your accommodation and flights in one go, you can also add F1 tickets into the mix with your hotel booking. This potentially gets you a much better price on the whole lot.
Do They Have a Loyalty Programme?
– As they are affiliated with Etihad Airways, this means their bookings are also affiliated with the Etihad Guest programme. If you're not familiar with this, it means you can collect points and miles when you book flights and package holidays. You'll be rewarded with bonus points for signing up and there are many ways to claim extra points, such as signing up for an Etihad Payment Card. The more you claim, the more tiers you can unlock and the more things you can purchase with your points!
What Other Special Offers Do They Have?
– Keep an eye out for their Early Bird offers just before key holiday booking periods as these could get you up to 30% off the normal price. And of course, we'll let you know about any other special offers here on our page.
How to Book Online with Etihad Holidays
Simply come and see what's listed here first. We could have promotional codes for Etihad Holidays that get you extra money off your booking, or links for seasonal promotions with special advertised discounts. Just use one of these links to visit their site and complete your booking as you usually would. And if you need to input a code before confirming payment, simply copy and paste it from our page.
Do They Have a Contact Number?
UK customers can contact their team on +971 2599 0700. However, if you're arranging your holiday booking online, you might find it easier to fill out their
contact form
with a written query.
Rate us:
Rated 3.60/5 from 5 users.