Promo Codes For Designer Desirables - July 2019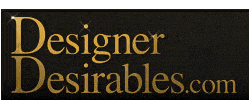 Get Designer Dresses for Less with the Latest Promo Codes for Designer Desirables
Looking for a new designer day dress or jumpsuit? You might want to give one of our promo codes for Designer Desirables a go. Their site is a great source for smaller designer labels and brands, offering much better value for money without compromising on style or quality. So if you've got a party on the horizon or think your wardrobe could do with a little pick-me-up, see what current savings our promotional codes for Designer Desirables have available…
An Affordable Ladies Designer Boutique
You hear the word 'designer' and you think pound signs. But it doesn't have to be this way, especially when you search online with our Designer Desirables money off codes. This is a site which sells new and last season garments from names like A Postcard From Brighton, Chi Chi, Briefly and Starry Eyed. Using our codes you can find price cuts on their 'New In' stock as well as sale reductions.
Get 10% Off Your First Order
– One of the easiest ways to make a saving straight away is to claim their new customer discount. This gets you 10% off that first order, so make it a good one! The perfect introduction to some of their new lines and a great excuse to replenish your seasonal wardrobe.
Shop Their Sale Outlet
– If you're a designer fashion bargain hunter, you won't be disappointed with their outlet page. We feature a link here on our discount codes for Designer Desirables page, so you can easily find those really big savings and pick up a few more treats.
Newsletter Registration
– One of the great things about shopping on a site like this is that they've got new stock arriving all the time. Designer floaty tops, casual dresses, beach wear and jumpsuits – you don't want to miss out on any limited lines, so make sure you stay in the loop by subscribing to their newsletter using one of our discount vouchers for Designer Desirables.
Free Delivery and Returns Info
All UK mainland orders come with Free Delivery sent by their Standard service. This takes 3-5 working days to arrive. When shopping with promotional codes for Designer Desirables, it is also possible to get your items delivered by their Next Day service for £4.99. If you need to send back any returns, please contact them within 14 days and then post back within 21 days of receiving original order.
What is the Designer Desirables Contact Number?
Call their customer services team on 01670 518490 if you need some advice before placing an order. If you'd rather email, please send questions to sales@designerdesirables.com. Their head office address is Designer Desirables Ltd, Unit 1E, Pegswood Industrial Estate, Morpeth NE61 6HZ.
Rate us:
Rated 3.60/5 from 5 users.