Promo Codes for Britt's Superfoods - July 2019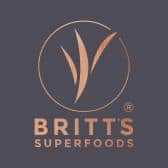 How Can I Save on Frozen Juice Shots with These Promo Codes For Britt's Superfoods?
Juicing might seem like a hassle, but our promo codes for Britt's Superfoods can offer a more convenient way to boost your healthy intake. This company specialises in frozen juice shots that contain live wheatgrass. They've done their research and have locked away all the amazing health benefits in their range of juices. Sold in bulk bags so you have enough to last, our codes offer even more ways to get great value from these shots of juicy goodness.
How to Order Organic Frozen Wheatgrass with Discount Vouchers For Britt's Superfoods
Because this is a specialist supplier, they have a huge range of products to choose from using ingredients such as beetroot, ginger, kale and turmeric. And live wheatgrass too, of course. Starting here on our page, we list all the most up to date discounts and special offers they have available. Simply choose which deal you'd like to enjoy and then use the link we provide to visit their site. Once you're there, you can choose to browse their entire range, or shop depending on your reasons for trying frozen juice shots. For example, you can narrow down your selection depending on whether you want to achieve weight loss, improve digestion or reduce cholesterol. Other goals they've taken into consideration with their juice shots include pregnancy, blood health and boosting immune systems. Their juice comes in large bags that contain 30 shots so you can bulk order to go the distance – just read on to see how to get the best value from their site.
Do They Have a Subscription Service?
– They do, and it's the perfect solution if you're worried about running out once you get started. For a subscription fee you can join their Juice Club which provides you with regular deliveries of your favourite frozen juice shots. Simply select the bags you'd like to receive on a regular basis, and how many you want every month. And the more you order using our promotional codes for Britt's Superfoods, the cheaper each shot becomes. This makes membership the best value way of ordering in the long term.
Do They Offer Free Delivery?
– If you're using one of our discount codes for Britt's Superfoods to buy 2 or more bags at once, you get to enjoy Free Next Day Delivery too! Juice Club members also get Free Delivery on all their orders.
How Can I Find More Info on Their Products and Ethos?
– One great incentive they offer on their site is their Free 7 Day Vitality eBook. This is the ideal starting point if you're not sure juice shots are for you, or you don't know which to opt for. Just put in you details and they'll send you the free download. Have a read and come back to our site to find a saving on your order. Plus, you can also sing up to receive their email newsletter for the latest updates.
Extra Delivery Charges and Info
If you're ordering less than 2 bags, delivery is charged at £6 for UK mainland addresses. Saturday Delivery is available for £14. They aim to get your order to you the following working day, but it may take 2-3 days for some outlying postcodes. They guarantee their products are frozen on arrival, but someone must be there to sign for them.
Britt's Superfoods Contact Number and Other Details
UK customers can call 0800 2289 450 with any questions before or after using one of our promotional codes for Britt's Superfoods. You can also complete the form on their
contact page
or email sayhello@brittssuperfoods.co.uk. Below are links to all their social media pages where you send them an instant message, or just catch up on their news:
Facebook –
https://www.facebook.com/brittsuperfoods/
Instagram –
https://www.instagram.com/brittsuperfoods/
Twitter –
https://twitter.com/brittsuperfoods
Rate us:
Rated 3.60/5 from 5 users.