Promo Codes for AllSaints - October 2020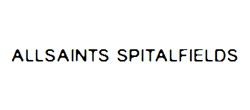 Save on Cutting Edge Fashion with the Latest Promo Codes for AllSaints
Search our money-saving promo codes for AllSaints and you'll be able to pick out your favourite fashion in style for less. This well-known business offers a comprehensive range of fashionable attire for all occasions. Use their elegant designs to upgrade your wardrobe without the huge expense. AllSaints are recognised around the world for their contemporary designs and their website showcases a whole variety of different clothing for the men and women. This British retailer maintains their heritage while offering eye-catching styles for everyone. AllSaints started their company in 1994 and have continued to increase in size and now use their online service as the staple of their company, so start looking to get money off with discount vouchers for AllSaints.
Latest Free Delivery Codes for AllSaints
We have collected the basic delivery and returns information for you below, so you aren't searching around for how much extra delivery will cost. AllSaints have affordable and convenient delivery options, but if you want to save more on your delivery, then be sure to look out for our free delivery codes for AllSaints


Standard Delivery- If you opt for the standard UK delivery at AllSaints then it will cost £3.95 unless you spend over £150, if so, it will be completely free.


Next Day - Get your order the very next day for just £4.95 or Free on orders over £150. Order before 5pm to ensure delivery the next day.


Saturday and Sunday- Weekend delivery will set you back £9.95, but the service is guaranteed to be with you on the day you choose.


Free Returns: You can return your online AllSaints purchases within 14 days of purchase to their Distribution Centre, and get a full refund. If you would rather go for an exchange or gift card, then you can return it within 28 days since you received your order. You can return your purchase either in store if you want an exchange or a refund, or by post to their returns address if you want a refund. For further information regarding the policies of delivery and returns, check out their
Help & Support
page.
Great AllSaints Money Saving Tips!
Gift Cards & Studio Sounds:
If you know someone who loves the AllSaints range, or maybe they haven't discovered it yet but you think they would adore it, why not buy the complete look for a loved one with the gift card?! They offer gift cards from £20 all the way up to £100, and they can be redeemed both online and in store. AllSaints Studios is a unique and creative place to showcase modern music and film talent, whilst at the same time displaying their fashions through a story. Their short films show their clothing in a natural environment with an ongoing story attached, and their music showcases new talent which you can listen to whilst you shop online with our discount codes for AllSaints.
Get your Edgy Fashion Fix:
As previously mentioned, this merchant is known for offering the public cutting-edge fashion with coats, jackets, footwear, shirts and much more, giving people fast access to all the best designs in the modern fashion world. You'll find formal and casual collections and all of their bespoke clothing can be enjoyed for less with promotional codes for AllSaints. You can enjoy a range of AllSaints dresses with occasion, short, bodycon and many others, as well as a selection of the latest handbags and accessories for both men and women.
Get the LookBook Look:
They have their very own
LookBook
for those that enjoy looking at the latest styles, which is updates every month with the latest seasons high-fashion trends. Their LookBook is not only to inspire your fashion creativity, but also is a practical way to find the clothes you love, as when you find an outfit that you adore in the LookBook, you simply have to click on the photo to find out exactly where to get it online at AllSaints, and exactly how much each garment and accessory is. They have LookBooks for both men and women, covering a range of modern styles, so you are sure to find something you love.
How to Contact AllSaints?
The AllSaints team are always on hand to help answer any questions or queries you might have about these promotional codes for AllSaints, their products selection or anything else. The best way to get in touch is probably via Social Media (links below) however you can also get in contact using the details below:
Phone:
0344 980 2211
Email:
ask@allsaints.com
Address:
All Saints Customer Experience, Units C15-C17, Jacks Place, 6 Corbet Place, London, E1 6NN
Check the Allsaints Social Media Channels
Find their social media pages for continuous inspiration, news on the latest giveaways and ways to interact. Connect on
Facebook
for the latest updates on new product lines and sales, as well as chatting to other AllSaints fans. Their
Instagram
is ideal for a visual guide to styling and how to
dress to impress, and you can always get in touch with one of the team on
Twitter.
So what else do you need to know about AllSaints? Share your style or find inspiration via the hashtag #AllSaints!
The AllSaints
YouTube
channel offers a behind the scenes look and also helps you with a combination of outfits. Here's an example of behind the scenes innovation from AllSaints designers via their YouTube channel.